Disaster Restoration in El Centro
Home and business owners in El Centro may have to deal with natural disasters such as earthquakes and wildfires, that have the ability to cause extensive property damage that requires professional assistance to remediate.
Although water damage from heavy rainfall doesn't occur on a regular basis, people living in the community experience fire and earthquake damage that requires them to reach out for professional disaster remediation services.
911 Restoration Imperial County is available 24/7/365 to take your calls and schedule an appointment for a free visual property inspection after your home or business has been damaged by a natural disaster.
We always make sure to arrive quickly to any job, because we never want to make you wait long for help when you find yourself dealing with destruction from a fire, earthquake or any other disaster. We provide services that include:
Comprehensive Disaster Restoration

Fire Damage Remediation

Structural Damage Repair

Water Damage Restoration

Pipe Burst Repair

Sewage Cleanup
We work with IICRC certified technicians that make sure to provide you with the most sophisticated restoration skills, leaving your property looking like it was never even affected by a disaster. So, call our disaster restoration El Centro unit and we will make sure you receive professional and affordable assistance today.
Prepare Your Home For Wildfire Season
There is a reason for the term "spreads like wildfire." When one starts, the fire can cover a massive amount of space in a short period of time, giving property owners almost no time to prepare for the impact.
The weather in El Centro stays relatively dry, making it easy for wildfires to start and damage nearby commercial and residential properties.
Even though there isn't much you can do to prevent a wildfire from happening, there are some things you can do around your home to slow it down and limit the damage it does on your property.
The first thing you should do is survey the property and remove any dead or dry foliage. This is basically kindling for any wildfire and will help catch your property on fire at a faster rate. If you do have plants on your lawn, it is wise to keep them at least 10 feet away from the structure.
You can also spray the outside of your property with fire retardant chemicals. They are eco-friendly, so you don't have to worry about the spray harming plants, wildlife or pets. These sprays will not stop a fire completely, but they will drastically slow down its ability to consume your property.
The most important thing to do when a wildfire is in your area is to pay close attention to local media and news outlets to track its progress. This is how you will know if you need to evacuate and give you time to pack some items and get out.
Earthquakes Can Cause More Than Just Structural Damage
California is used to experiencing earthquakes of all sizes, but it doesn't make them any less scary when they are rocking your home back and forth.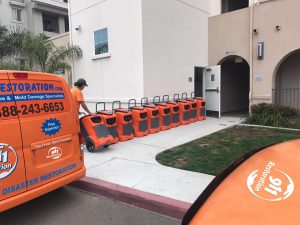 Since it is impossible to predict when the next one will hit, it is necessary to have your home or business prepped ahead of time in order to minimize the damage they will cause.
If an earthquake is strong enough, it can break and knock things over that can lead to extensive property damage. For example, if your water heater is knocked over it can spray hot water everywhere and cause water damage. By strapping it down, you can easily prevent this from happening.
Quakes can also cause water pipes to break and rupture gas pipelines. By installing an earthquake gas shut off valve you can prevent dangerous gas leaks from occurring. If you use propane, they can fall and explode. A simple anchoring system is the best way to prevent this hazard.
You also are going to want an emergency kit on hand in case you lose gas and electricity due to an earthquake. Your kit should include flashlights for everyone in the household, batteries, two weeks worth of water and food per person in your family, and basic camping gear (tent, sleeping bags, stove, etc.) in case you are unable to stay inside your home or drive anywhere.
The disaster restoration El Centro professionals are also available to assist you after any disaster incident affects your home or business, as well as answer any questions you may have, so give us a call at 911 Restoration Imperial County today.
Serving the communities of Bard, Brawley, Calexico, Calipatria, Coachella, Dixieland, El Centro, Fontana, Heber, Holtville, Imperial, Indian Wells, Indio, La Quinta, Mecca, Niland, Ocotillo, Palm Desert, Palo Verde, Salton City, Seeley, Thermal, Westmorland, Winterhaven and surrounding areas.