Mold Removal El Centro
El Centro has a sub-tropic temperate climate that makes it optimal for mold growth, so if you have mold concerns call 911 Restoration Imperial County for fast and professional mold removal services.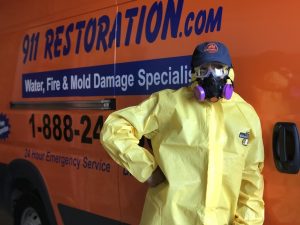 The mold removal El Centro team can be at your door within 45 minutes of a call because fungus never stops growing.
When mold finally becomes detectable to a homeowner, it means it has been growing for months.
This is why 911 Restoration is available 24/7/365 with our same day service because mold growth is relentless.
It eats at away at your home, and your state of mind, and we are here to set your mind right.
We are here to put you onto a fresh start, and that means bringing you a better tomorrow that is mold free.
If your home or business is starting to smell a bit musty, then you likely have a mold contamination, and you should contact our mold removal El Centro team with 911 Restoration Imperial County for all the help you need to get back to normal today!
Where Mold Grows and How to Prevent It
Mold is a fungus that prefers the dark humid corners of the home surrounded by organic materials such as drywall and wooden planks. Places like attics, crawlspaces, cabinets, and pockets in between walls are ideal places for mold to start cultivating.
Some important things to know about mold removal and prevention:
These areas are also the most prone to water damage. The reasons being, poor drainage and pipe bursts will fill these hidden spaces with water, and as time goes on the evaporating water becomes trapped as humidity.
Humidity has nowhere to escape due to poor ventilation, so it activates the naturally occurring mold spores in the air, causing mold growth to take root.
Furthermore, they are spaces homeowners usually check infrequently, so simple mitigation techniques such as bleaching become ineffective due to the high concentration of spores that can just repopulate afterwards.
Our mold removal El Centro team recommends that homeowners check spaces monthly to ensure it does not have the chance to overrun your home.
On top of that, roof leaks and gutters need to be checked to ensure water has no way of pooling and seeping into your home.
If the homeowner detects musty smells or visual confirmation of the mold, then it may be too late for remedies.
If your home or storefront has recently been through a water damage incident and you want to avoid mold contamination, then contact our mold removal El Centro team with 911 Restoration Imperial County today!
Mold Remediation: the Best in the West
The IICRC certified mold removal El Centro team at 911 Restoration is prepared to handle the most toxic of mold situations. We always come equipped with mold tests, infrared cameras, gas masks, air scrubbers, HVAC systems, and hazmat suits to decimate mold.
As a result of the many different types of mold, the homeowner may not know if the mold in their home is a danger to their health. We test the mold to best draft a proper removal effort that ensures the homeowner peace of mind for years after our help.
Detecting high humidity areas that are hidden is easy with our infrared cameras. By detecting cool blue spots, our experts know that there is trapped moisture in that zone. Drying and clearing the moisture is pivotal in stopping further mold growth.
On top of that, we use air scrubbers and HVAC systems to filter and keep airflow limited to the infested room. If mold spores travel out of the room then they can root themselves into more places.
Our mold removal expertise extends into insurance matters as well. Knowing what type of water damage is covered by insurance means we can maximize mold removal cost coverage, as homeowners insurance does not cover mold growth in itself.
If your home or office is already smelling musty, then you likely have a fungus or mold growth issue and you need to have it taken care of immediately. Contact our mold removal Indio team with 911 Restoration Imperial County and let the professionals take care of it for you today!
Serving the communities of Bard, Brawley, Calexico, Calipatria, Coachella, El Centro, Fontana, Imperial, Indio, La Quinta, Mecca, Palm Desert, Seeley and surrounding areas.