Water Damage and Mold Removal in Salton City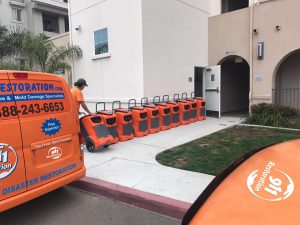 The professionals at 911 Restoration of El Centro are here to help you recover from a flood, sewage backup, or pipe burst in Salton City. Our IICRC certified water damage restoration and mold removal techs are on-call 24/7/365. You get a Fresh Start after a water damage emergency by contacting us to get:
Help Within 45 Minutes of Your Emergency Call

A Water Damage and Mold Inspection

Pack Out and Storage Services for Your Possessions

Help with Flood Cleanup and Structural Repairs

Commercial and Residential Mold Remediation Services
The licensed, bonded, and insured water damage restoration techs at 911 Restoration of El Centro can handle any type of water damage for you. Techs are also trained to take care of mold decontamination in Salton City. Take the first step to ensuring your property is renovated and repaired properly by contacting us right now.
Where Can You Get Emergency Water Damage Restoration in Salton City?
When you're dealing with a pipe burst, flood, or sewage backup, there's no time to waste. You need to get help with water damage restoration in Salton City as quickly as possible. That's why 911 Restoration of El Centro stays available 24/7/365. Flood cleanup techs can reach your property within 45 minutes of an emergency to help you handle:
Emergency Water Extraction

Emergency Roof Repairs

Emergency Boarding Up

Emergency Storm Cleanup
Salton City flood cleanup and mold decontamination techs can come prepared with equipment to stop additional water from entering your property. Crews can also remove the water that has entered your home or business fast, to prevent additional damage from occurring.
Crews can also perform a mold inspection in Salton City, once the immediate emergency has passed. Water damage restoration often involves mold remediation. The pros at 911 Restoration of El Centro have the training and experience to take care of flood cleanup and mold decontamination in Salton City.
Can You Eliminate Mold with Mold Remediation in Salton City?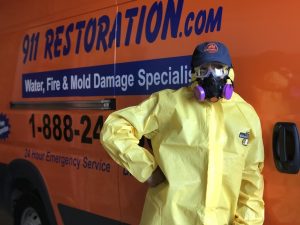 Water damage events like floods and pipe bursts can provide mold with the perfect environment in your home or business. Fortunately, you can take immediate steps to eliminate mold growth by contacting 911 Restoration of El Centro for mold remediation services.
Salton City mold removal techs understand what it takes to complete residential and commercial mold removal. Mold decontamination techs have the training and equipment to rid your property of dangerous toxic molds, like black mold.
However, you should be aware that mold is a substance that occurs naturally in the world around us. This means that, even after mold removal is completed, mold may return to your property. However, techs can ensure that your mold infestation is eradicated by completing a final mold inspection for you.
Take steps to get a Fresh Start after a flood, pipe burst, or mold infestation by contacting 911 Restoration of El Centro. Our flood cleanup and mold remediation techs in Salton City are standing by to take your call right now. Get started with a water damage and mold inspection today.
Servicing the cities of Bard, Brawley, Calexico, Calipatria, Coachella, Dixieland, El Centro, Fontana, Heber, Holtville, Imperial, Indian Wells, Indio, La Quinta, Mecca, Niland, Ocotillo, Palm Desert, Palo Verde, Salton City, Seeley, Thermal, Westmorland, Winterhaven… and surrounding areas.