Water Damage and Mold Removal in El Centro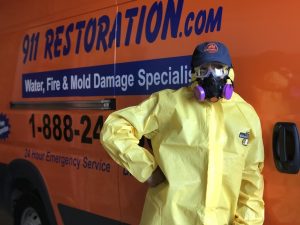 Make sure you're ready to recover from a flood, storm, or pipe burst in El Centro by getting professional help right away. You can contact 911 Restoration of El Centro 24/7/365 to get help within 45 minutes. Let our IICRC certified water damage restoration and mold removal techs offer you a Fresh Start today. Flood cleanup crews are standing by to:
Complete a Water Damage and Mold Inspection

Take Care of Commercial and Home Flooding

Remove Water from your Property

Handle Comprehensive Dehumidification Services

Repair Damage Caused by Rising Waters

Deal with Mold Remediation and Odor Removal
The assistance you need with flood cleanup and mold decontamination in El Centro is only a phone call away. Contact us any time of the day or night if you need assistance with carpet water damage, sewage cleanup, a pipe burst, or any other water damage event. Our mold removal crews won't rest until your property is back in better-than-new condition.
What Happens During Water Damage Restoration in El Centro?
Water damage restoration in El Centro is not a one-size fits all process. The flood cleanup experts at 911 Restoration of El Centro believe in personalizing the services you receive, based upon the type of water damage you're dealing with and the extent of the damage. Depending upon your needs, water damage restoration crews may:
Set Up Pumps to Extract Water Quickly

Use Fans, Air Movers, and Dehumidifiers to Dry Your Property

Check for Fungal Growth with a Mold Inspection

Take Care of Odor and Mold Removal

Repair Structural Damage Caused by Water and Mold
Mold remediation in El Centro is often an important part of water damage restoration. Let us look for signs of mold growth with a mold inspection. If crews spot fungal growth, they can begin mold decontamination while working to remove unwanted water from your home or business. Get help following a natural disaster or a pipe burst.
Are There Mold Remediation Specialists Near You?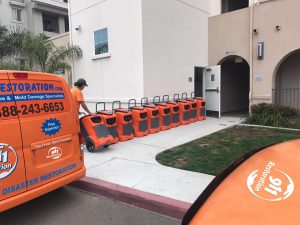 As we mentioned, mold can be a big problem after a sewage backup, flood, or pipe burst in El Centro. Fortunately, you can get fast help with mold remediation by contacting 911 Restoration of El Centro. As a locally owned and operated company, our experts can reach your property quickly to handle mold removal in El Centro.
You should be aware that mold can continue to grow and spread each hour that it is allowed to remain in your property. Getting same-day help with mold decontamination in El Centro can reduce the total damage to your property. El Centro mold remediation techs can reach your property in under an hour.
Allow us to assess all of your property restoration needs with a water damage and mold inspection in El Centro right now. Let El Centro flood cleanup and mold decontamination experts focus on returning your property to the perfect condition you deserve, so you can get back your peace of mind after a water damage emergency or mold infestation.
Servicing the cities of Bard, Brawley, Calexico, Calipatria, Coachella, Dixieland, El Centro, Fontana, Heber, Holtville, Imperial, Indian Wells, Indio, La Quinta, Mecca, Niland, Ocotillo, Palm Desert, Palo Verde, Salton City, Seeley, Thermal, Westmorland, Winterhaven… and surrounding areas.