Water Damage and Mold Removal in Brawley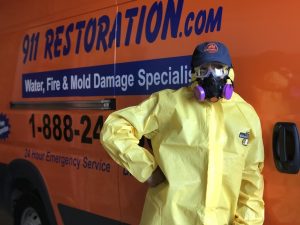 The professionals at 911 Restoration of El Centro can help you recover from a flood, sewage backup, or pipe burst in Brawley. Our IICRC certified water damage restoration and mold removal crews can reach your property within 45 minutes, 24/7/365. Let us give you a Fresh Start. You can count on us to:
Offer You Same-Day Flood Cleanup Services

Provide You with a Water Damage and Mold Inspection

Check for Structural Damage Caused by Water

Deal with Basement Flooding and Ceiling Leaks

Handle Dehumidification and Drying Services

Deal with Mold Remediation

Repair Aesthetic Damage and Handle Odor Removal
Brawley flood cleanup specialists can even pack out and store your undamaged belongings. Take the first step to returning your property to perfect condition by contacting us as soon as you spot signs of water damage. Crews are standing by to begin water damage restoration and mold decontamination in Brawley right now.
When Do You Need Water Damage Restoration in Brawley?
It's a good idea to begin water damage restoration and mold removal in Brawley as quickly as possible after a water damage emergency. The professionals at 911 Restoration of El Centro can offer you around the clock service if you need help after a pipe burst, winter storm, flood, or sewage backup.
Getting help right away can limit the total damage to your property, so it's important that you do not hesitate to contact flood cleanup professionals. The experts at 911 Restoration of El Centro can assess your unique needs right now with a water damage and mold inspection in Brawley.
Based on the results of your inspection, mold removal crews can take care of water damage repair and mold decontamination using professional-grade:
Water Pumps

Air Movers and Fans

Dehumidifiers

Infrared Scanners

Air Filters

Cleaning Chemicals
Find out exactly how we can help you with mold remediation and water damage restoration in Brawley by contacting us immediately after a flood or pipe burst.
Can Brawley Mold Remediation Techs Stop Mold from Spreading?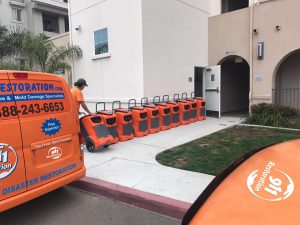 Mold can be an insidious problem after a pipe burst or a flood. This fungus often grows quickly in damp areas. Fortunately, Brawley mold remediation techs can isolate areas of your property experiencing a fungal outbreak, stopping mold from reaching other rooms in your home or business.
You can limit the damage caused by mold by allowing our flood cleanup crews to perform a mold inspection in Brawley. If mold remediation techs identify mold, they can:
Isolate Mold with Plastic Sheeting

Set Up Air Filters to Get Rid of Mold Spores

Send a Mold Sample to a 3

rd

Party Laboratory for Testing

Take Care of Mold Decontamination 
The mold removal experts at 911 Restoration of El Centro are licensed, bonded, and insured to handle both water damage restoration and mold decontamination. Techs can even perform a final mold inspection to make sure your property is fully restored. Let us bring your property back to perfect condition you deserve right now.
Servicing the cities of Bard, Brawley, Calexico, Calipatria, Coachella, Dixieland, El Centro, Fontana, Heber, Holtville, Imperial, Indian Wells, Indio, La Quinta, Mecca, Niland, Ocotillo, Palm Desert, Palo Verde, Salton City, Seeley, Thermal, Westmorland, Winterhaven… and surrounding areas.