Mold Removal in Calipatria
Mold removal crews in Calipatria are standing by to clean and restore your home or business. You can get professional help handling a fungal outbreak by contacting 911 Restoration of El Centro right now. Our IICRC certified mold remediation techs can offer you a Fresh Start, 24/7/365. Call us and crews can:
Reach Your Property Within 45 Minutes

Assess Your Needs with a Mold Inspection

Work with a 3

rd

Party Laboratory for Mold Testing

Wipe Out All Signs of a Mold Infestation

Repair Water Damage That Caused a Mold Outbreak

Take Care of Mold Decontamination and Odor Removal
Getting fast help after you spot signs of mold can cut down on the total time it will take to restore your property. It can also lower your costs for mold remediation in Calipatria. 911 Restoration of El Centro can provide you with same-day mold removal services, so you don't have to wait to bring your property back to perfect condition.
Can Mold Remediation in Calipatria Get Rid of All Mold?
Mold can spread quickly once it infiltrates your home or business. This fungus can grow behind walls, under floors, and in other hard to reach locations. Fortunately, mold remediation in Calipatria can take care of mold, no matter where it tries to hide.
The mold removal techs at 911 Restoration of El Centro are licensed, bonded, and insured to eradicate all signs that you experienced a mold infestation. Techs can track down all areas infested with fungus by conducting a mold inspection in Calipatria.
Techs will then work on a personalized mold cleanup plan designed to address your unique needs. However, you should be aware that mold is a naturally occurring substance. This means that some signs of mold spores are expected, even after mold decontamination in Calipatria is completed.
What Do You Do During Mold Cleanup in Calipatria?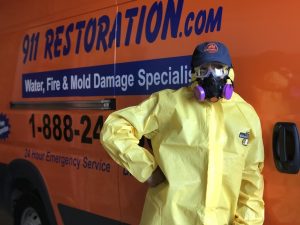 Once you contact mold removal pros in Calipatria, you can take a deep breath and relax. The mold cleanup pros at 911 Restoration of El Centro have the training and experience to handle all aspects of mold decontamination for you. You will likely not even have to leave your property, as crews can set up plastic sheeting to isolate areas with mold growth, keeping everything contained while they:
Use Air Filters to Get Rid of Mold Spores

Scrub Down Your Walls, Ceilings, and Floors

Clean Up Any Possessions Exposed to Mold

Handle Comprehensive Mold Decontamination
Mold remediation techs can even perform a final mold inspection once they are finished with mold cleanup. This last mold inspection will be used to ensure that all signs of mold growth have been completely erased from your home or business. Get back your peace of mind today by contacting the mold specialists at 911 Restoration of El Centro.
Servicing the cities of Bard, Brawley, Calexico, Calipatria, Coachella, Dixieland, El Centro, Fontana, Heber, Holtville, Imperial, Indian Wells, Indio, La Quinta, Mecca, Niland, Ocotillo, Palm Desert, Palo Verde, Salton City, Seeley, Thermal, Westmorland, Winterhaven… and surrounding areas.