Mold Removal in Brawley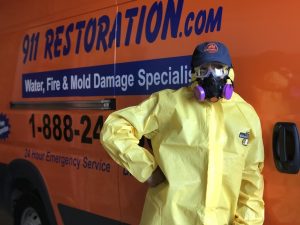 The professionals at 911 Restoration of El Centro are here to help if you have a mold infestation in Brawley. Mold removal techs can reach your property within 45 minutes of an emergency call, 24/7/365. All crews are IICRC certified to take care of commercial or residential mold remediation, so you can get a Fresh Start.
Here at 911 Restoration of El Centro, mold decontamination techs are ready to provide you with same-day service. Crews can get started with a mold inspection in Brawley. Crews can even take a sample of the fungus during your mold inspection. This sample can be sent to a 3rd party laboratory for testing.
Once techs are done assessing your needs, they can begin mold cleanup in Brawley. Let us completely disinfect your property. Mold decontamination experts can also handle odor removal and get rid of any unsightly marks left behind by mold growth. Mold remediation in Brawley can return your property to better-than-new condition.
What is the Cost of Mold Remediation in Brawley?
Mold remediation in Brawley can vary in cost, depending upon the:
Type of Mold in Your Property

Extent of the Mold Growth You're Experiencing

Area Where the Mold is Growing
Costs can also vary depending upon the causes of your mold infestation. The mold cleanup pros at 911 Restoration of El Centro work hard to keep mold remediation costs reasonable for you. We can also take care of flood cleanup and water damage restoration, which can lower the overall costs for property restoration.
Mold removal techs can provide you with a cost estimate after they finish your mold inspection in Brawley. Let us identify all areas experiencing mold growth so we can get to work for you right away. Mold cleanup crews won't rest until your mold infestation is completely erased.
What Should You Expect from Brawley Mold Cleanup?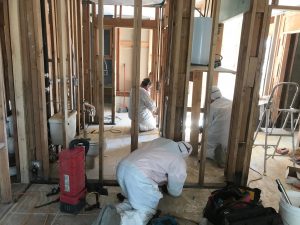 The exact steps in mold cleanup can vary, based on your unique needs. The licensed, bonded, and insured mold removal techs at 911 Restoration of El Centro can determine the best way to help you by completing a mold inspection. Based on their findings, they may:
Set Up Plastic Sheeting to Isolate Areas with Mold

Use Air Filters to Get Rid of Mold Spores

Scrub Down All Areas Exposed to Mold

Clean Items Infested with Mold

Handle Odor Removal with Mold Decontamination
The property restoration professionals at 911 Restoration of El Centro are even ready to take care of the underlying causes of your mold infestation. You can rely on us to deal with flood cleanup as well as mold decontamination in Brawley. Our goal will always be returning your property to the perfect condition you deserve. Let us begin working for you right now. Call us and Brawley mold removal crews can race out to your property to begin same-day cleanup.
Servicing the cities of Bard, Brawley, Calexico, Calipatria, Coachella, Dixieland, El Centro, Fontana, Heber, Holtville, Imperial, Indian Wells, Indio, La Quinta, Mecca, Niland, Ocotillo, Palm Desert, Palo Verde, Salton City, Seeley, Thermal, Westmorland, Winterhaven… and surrounding areas.