COVID 19 in El Centro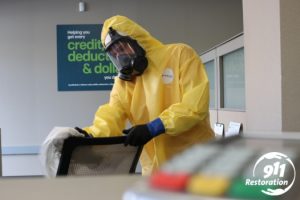 Are you unsure what to do to help the community during the coronavirus outbreak? Everyone in El Centro has an important role to play as we work to contain the virus and limit the damage to our community. You can do your part by focusing on the recommendations issued by the CDC and the EPA. These organizations have offered guidance for sanitizing your property and protecting your health.
The CDC has issued guidelines for cleaning both commercial and residential properties in El Centro. The exact recommendations vary based upon the type of material you are trying to clean. For example, the CDC recommends that you clean:
Hard surfaces with soap and water, then using an EPA approved

disinfectant

Soft surfaces with soap and water or an appropriate substitute

Electronics with alcohol wipes

Laundry with warm water and detergent
You may be unable to access EPA approved disinfectants during the pandemic. Many stores are sold out of cleaning supplies. You can substitute a diluted bleach mixture or an alcohol solution with at least 70% alcohol to effectively kill coronavirus on surfaces in your home or business.
The CDC also reinforces the importance of practicing good hand washing hygiene during this time. You should wash your hands for at least 20 seconds using soap and water. However, if you cannot wash your hands, you can use a hand sanitizer with at least 60% alcohol. Note that you should always wash your hands if you have visible dirt on your skin.
911 Restoration of El Centro is also here to help you during the coronavirus pandemic. We provide members of the community with professional sanitization services. Our crews use the recommendations of the CDC and the EPA to develop disinfection solutions that work for you. Contact us now to get help sanitizing your commercial or residential property.